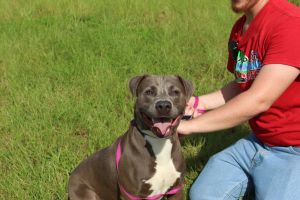 Nora is ready for adoption! Nora is a 1 year old Bulldog mix that is incredibly sweet and loves belly rubs! Her adoption fee has been waived to an approved adopter!
Adult, Female, Medium
From their website
The Hub City Humane Society is dedicated to providing compassionate care of homeless, neglected and abused animals.  We strive to maintain the highest quality of services to the community by relieving the pain and suffering of all animals brought into our care.  We are an open admission animal shelter servicing Lamar County and the City of Petal.  We will engage the public awareness of animal welfare issues as well as work to prevent cruelty and promote kindness towards animals.  Our organization collaborates with rescues and animal welfare organizations both locally and nationally and promise to maintain this highest level of performance through continued training and education for management and staff.