Don't Let Hand Pain Limit Your Lifestyle.
Treatment for Carpal Tunnel Syndrome is Available
South Central Rehabilitation Services | 1002 Jefferson Street, Laurel.
Working with your hands day after day can take a toll on them, causing pain, numbness, and weakness. Carpal tunnel syndrome is one condition that many individuals can experience. Kristal Forthner-Jones, a local accountant for the City of Laurel, began experiencing all these symptoms, but it was not until the pain woke her in her sleep that she sought treatment.
Mrs. Jones, who lives in Paulding, is married to Sedrick, and has a 12-year-old daughter and a 7-year-old son. She explains what led her to seek medical help. "I have worked for over 18 years with the City of Laurel. I experienced a lot of overuse in my left hand. At first, it was small aches and numbness here and there, but this past May was when the pain increased tremendously. I was noticing pain that would wake me from my sleep and it was causing me to not be able to perform certain job duties or participate in activities with my kids. At this point, I knew I needed to seek medical treatment."
Mrs. Jones visited Thomas Baylis, MD, Orthopedic Surgeon at South Central Orthopedics in Laurel. "Dr. Baylis evaluated my hand and wrist, and then ordered a nerve study with local neurologist, Gulshan Oberoi, MD, at South Central Neurology. The testing determined that I had advanced carpal tunnel syndrome. Because of the severity at that time, injections and therapy would not help, so I scheduled surgery with Dr. Baylis."
Treatment for carpal tunnel syndrome can be surgical or non-surgical. Non-surgical treatments include wearing a wrist brace during the night, therapy services to reduce pain and undergoing cortisone injections. Surgical intervention for carpal tunnel syndrome is a carpal tunnel release, which is an outpatient surgical procedure.
"I believe my pain increased so much because I delayed treatment. I was nervous about having surgery," said Jones. "But, surgery was very easy. I was really sore for a few days following the procedure, but looking back I am so glad I had it done. I was on medical leave from work for 3 weeks, and soon after started occupational therapy at South Central Rehabilitation Services with Alaura."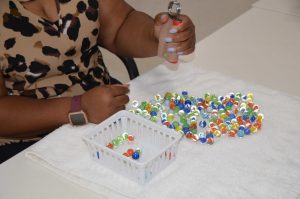 Alaura Culpepper, MOTR/L, CHT, is the only certified hand therapist in Jones County. Culpepper evaluates and treats any upper limb problem, providing post-operative rehabilitation, preventative, non-operative or conservative treatment, or industry consultation. She works closely with each patient's medical provider to provide a continuum of care, starting within days of injury or surgery and continuing until the patient can return to work and have a productive lifestyle.
Mrs. Jones has received occupational hand therapy for 6 weeks. As part of her therapy, she received paraffin hand baths, fludiotherapy, ultrasound, deep massage therapy and worked on exercises to strengthen her muscles.
Culpepper explains treatment methods more. "We offer ultrasound therapy which helps to promote healing, reduce inflammation and pain, and breaks down scar tissue. The fludiotherapy helps with sensations, so if there is stiffness in the joints or numbness and tingling, this treatment aids in recovery."
Mrs. Jones, who is 6-weeks out from surgery, said she is looking forward to doing a variety of activities with her hand. "My daughter wants to try different hair styles. Before, I would have to tell her no, but now I am able to grip and hold. I will be able to open envelopes and hold papers at work now. You do not realize how hard it is to open an envelope if you do not have use of your hand."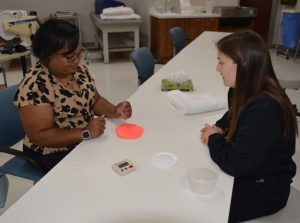 If you have an injury to your hand, wrist, arm, or elbow or are experiencing chronic pain or discomfort doing daily tasks, it is probably time to see a hand therapist. Culpepper states, "Often I treat patients who are experiencing limitations in their range of motion, coordination, strength, or any condition that is stopping them from fulfilling their daily activities. It is encouraging to see a patient go from not being able to use their extremity to coming back excited that they were able to accomplish their personal goal. It is not only a celebration for the patient, but also for myself as a therapist. I am excited to be able to help patients grow."
South Central Rehabilitation Services offers a variety of services, including physical therapy, occupational therapy and speech therapy. If you know of someone who is experiencing upper extremity problems, help is available. A physician referral is required. Hand therapy is offered at South Central Rehabilitation Services at 1002 Jefferson Street in Laurel. For more information about the program, please call 601-399-0530 or visit scrmc.com.
Read original article by clicking here.