Early Detection
Breast cancer is the most common form of cancer in women. Within the United States there are over 2.5 million breast cancer survivors.  This is because most breast cancer can be completely cured if it is detected early.  There is a 1-in-8 chance that a woman will have invasive breast cancer sometime during her life, so regular screenings are very important for early detection and survival of the disease.
Most breast lumps are benign (non-cancerous) growths that do not spread and are not life-threatening.  However, there are many different types of breast cancer.  Breast cancer can become a very serious disease in the advanced stages that can spread through the lymph system to other parts of the body.
Risk Factors
According to the Mississippi State Department of Health, women in Mississippi who are likely to have advanced stages of breast cancer include minorities, elderly women and the medically underserved.  This reflects differences in access to screenings and access to information about the symptoms of breast cancer.  Although positive family history is a risk factor for the development of breast cancer, there are several other risk factors that have also been identified.
Women identified to be at higher risk for developing breast cancer include:
Women who do not have children or had them later in life
Women who have recently used birth control pills
Women who receive Postmenopausal Combination Hormone Therapy not estrogen alone
Women who did not breast feed
Women who drink alcohol
Women who are overweight or obese
Women who do not exercise
Detection and Diagnosis
Screenings help to detect breast cancer in the early stages.  Most breast cancer detected at an early stage can be completely cured.  Thousands of lives are saved each year by early detection screenings because they can detect breast cancer before symptoms appear.  Screening tools for early detection include mammograms, clinical breast exams and breast self-exams.
A lump in the breast is usually the most common sign of breast cancer.  However, there are other important symptoms that should be reported to a doctor immediately if they are noticed.
Other breast cancer symptoms include:
Swelling, dimpling or irritation of the skin
Pain in the breast
Inverted nipple/pain in the nipple/irritation/ulceration of the skin on the nipple
Skin that appears red, scaly or thick
Discharge other than milk
A lump in the underarm area
There are several things that women just do not recognize as being a problem and unfortunately that leads them to wait before they seek any sort of diagnosis. Early detection is key to treating breast cancer.  The earlier the stage of breast cancer the better the chance of survival. The very early breast cancers have a 97 to 100 percent chance of cure, but once it spreads to the lymph nodes or elsewhere the chance of cure goes down significantly.
Genius™ 3D Mammography™ 
Utilizing advanced breast tomosynthesis technology, 3D mammograms are clinically proven to significantly increase the detection of breast cancers, and also decrease the number of women asked to return for additional testing. In conventional 2D mammography, overlapping tissue is a leading reason why small breast cancers may be missed and normal tissue may appear abnormal, leading to unnecessary callbacks. A 3D mammogram includes a three-dimensional method of imaging that can greatly reduce the tissue overlap effect.
The exam includes both 2D images and tomosynthesis scans. During the tomosynthesis-dimensional portion of the exam, an X-ray arm sweeps in a slight arc over the breast, taking multiple images. A computer then converts the images into a stack of thin layers, allowing the radiologist to review the breast tissue one layer at a time. The 3D mammogram requires no additional compression and takes just a few seconds longer than a conventional 2D breast cancer screening exam.
The 3D mammogram is revolutionizing how breast cancer is detected by providing a better option for women of all breast densities compared to 2D alone.  Researchers have found that:
The Genius™ 3D Mammography™ exam finds 20-65% more invasive breast cancers compared to 2D alone, an average increase of 41%.
Only the Genius™ 3D Mammography™ exam is FDA approved as superior for women with dense breasts compared to 2D alone.
The Genius™ 3D Mammography™ exam reduces callbacks by up to 40% compared to 2D alone.
If you would like to schedule a Genius 3D Mammography™ exam, or have questions about this important breast health procedure, please contact South Central Breast Care Center at 601-426-4090.
Automated Breast Ultrasound System
Invenia™ ABUS – Dense Breast Screening
About 40% of women have dense breast tissue. And for these women, mammograms alone may not be enough to find breast cancer. South Central Regional Medical Center now offers Invenia™ ABUS, the only breast cancer screening technology FDA-approved for detection in women with dense breast tissue.
What does Breast Density mean? Breasts are made of fat and breast tissue. Some women have more fat than breast tissue while others have more breast tissue than fat. When there is more breast tissue, the breast is considered dense. On a mammogram, dense tissue looks white. Since masses or lumps also appear white on a mammogram, a suspicious lump may be masked by the dense breast tissue.
Dense breast tissue is also linked to an increase in the risk of developing breast cancer. Women with extremely dense breast tissue have a 4 to 6 times greater risk of developing breast cancer than women who do not have dense breast tissue. Invenia™ ABUS helps physicians look differently at dense breast tissue.
Breast density is determined by the radiologist who reads your mammogram and classifies the density into one of four categories. Your doctor will tell you if you have dense breasts based on your mammogram's classification on the density scale.
 Comprehensive Cancer Care
South Central Cancer Center provides comprehensive cancer treatment to breast cancer patients in Laurel and the surrounding areas.  Lisa Bond, MD, Hematologist/Medical Oncologist, Sandeep Singh, MD, Hematologist/Medical Oncologist and CJ Dennis, FNP, are part of the care team at South Central Cancer Center. Our facility prides itself in providing excellent care within our local medical community.  We have all of the components of state-of-the-art breast cancer treatment in Laurel including chemotherapy, radiation therapy, surgery and cosmetic reconstruction services.
The two most important recommendations to women for early detection and survival of breast cancer are to do monthly self-breast exams and yearly mammograms starting at age 40. Contact your OB-GYN provider or Primary Care provider immediately if you notice anything at all that might be a symptom of breast cancer. By offering women 3D mammograms, the center hopes to increase the number of area women who follow recommendations for regular screenings.
For more information on the comprehensive cancer program in Laurel at South Central Cancer Center, please visit our website at scrmc.com.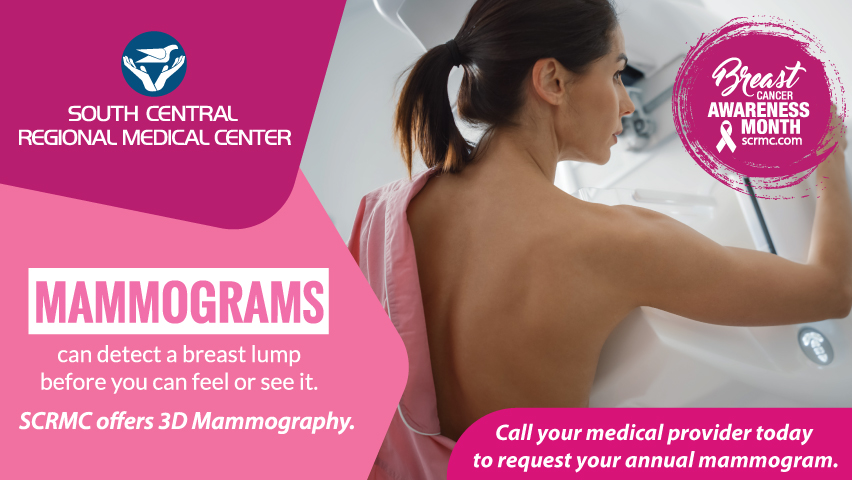 Read original article by clicking here.