This article first appeared on the Magnolia Tribune.
Democratic gubernatorial candidate Presley campaigns on the Coast, incumbent Republican Governor Reeves makes big ad buy, debating the Lt. Governor's race, and more.
Statewide elections in Mississippi are heating up as more voters begin to pay attention to the races on the local and state level. Party primaries are just over two months away.
Here's a recap of the latest happenings on the campaign trail.
Presley makes his way to the Coast
On Monday, Democratic gubernatorial candidate Brandon Presley held a fundraiser at The Bungalow at Gulf Hills in Ocean Springs. Suggested donations started at $250 and topped out at the host level of $5,000.
Social media photos appear to show the event drew over two dozen people to meet and support the Democrat.
"Such a great night in Ocean Springs with Democrats, Republicans and Independents across the Gulf Coast who want a Governor who cares about their region and is committed to cleaning up the corruption of Tate Reeves and his buddies," Presley shared on Facebook. "Thanks to all who took time to attend our event!"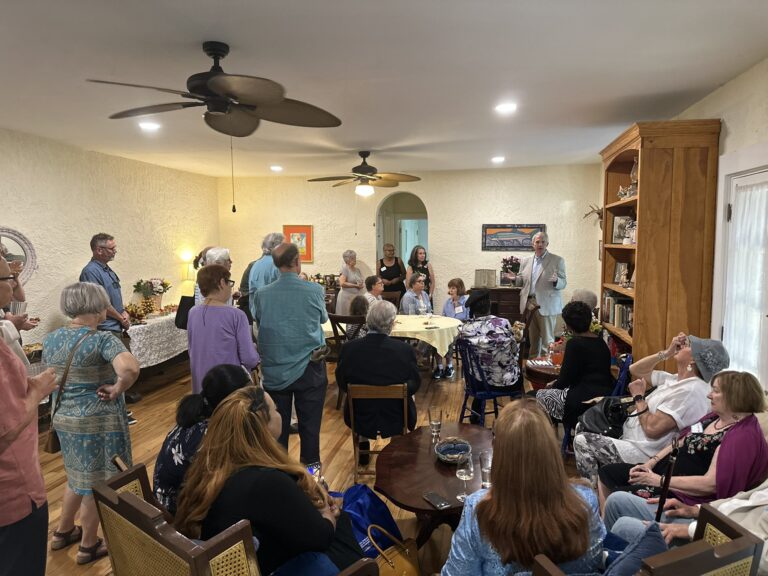 The Northern District Public Service Commissioner followed that evening up with a press conference on Tuesday morning outside of the Harrison County Courthouse in Gulfport. He used the event to release who his campaign called "the second plank of his historic ethics plan."
Presley proposed hiring an independent investigator appointed by the Ethics Commission that cannot be fired by the governor or the legislature to hold state agencies accountable. He also proposed creating a Task Force on Public Integrity with appointments from the state auditor, attorney general, and executive director of the Department of Finance and Administration to review all state contracts and evaluate the performance of any recipient of taxpayer dollars, with a focus on the Department of Human Services.
Reeves announces $1.3 million ad buy
Incumbent Governor Tate Reeves' campaign announced the Republican's first television ad for his re-election bid. The campaign said the $1.3 million advertising buy will run through June and into July.
The ad buy from the Reeves campaign is near the total amount raised by this main Democratic opponent Brandon Presley during the first reporting period of 2023.
Reeves' campaign manager Elliott Husbands said in a statement on the buy that national Democrats and their donors "will undoubtedly pour millions of special interest dollars into the failing campaign of Brandon Presley, but they will ultimately be unsuccessful in their efforts."
Presley's campaign criticized Reeves for using footage from a shuttered private school previously operated by Nancy New who pled guilty to fraud in the TANF scandal.
The ad from Governor Reeves can be seen below.
Twice-failed Georgia gubernatorial candidate Abrams sees Mississippi as ripe for Democrats
Appearing on MSNBC's 'Morning Joe," twice-failed Democratic gubernatorial candidate Stacey Abrams sees Mississippi as ripe for Democrats to make gains this year.
Eugene Robinson asked Abrams, "Which southern state do you think is ripest for the sort of transformation you helped accomplish in Georgia?"
"I think that we have an exciting set of elections coming up in Mississippi with Brandon Presley running against a very weakened Tate Reeves. I think Andy Beshear is going to put on a credible race against Daniel Cameron," Abrams said. "He has been a strong governor, and that is a real opportunity, and because these are off-year elections, it's very important that we pay attention to these two southern states that we invest heavily in their success."
The Mississippi Republican Party wasted no time in responding to Abrams' comments. The MSGOP said that while Democratic gubernational candidate Presley has attempted to position himself as a bipartisan populist, Abrams's involvement in the race could tarnish that image.
"Congratulations to Brandon Presley on the support from the Democrat Party's leftwing top grifter! Stacey Abrams has a long history of fleecing donors for hopeless far-left campaigns," said MSGOP Chairman Frank Bordeaux. "Any day she would like to come to Mississippi, we will put her on the 8:25 AM flight from Hartsfield International Airport to Jackson-Medgar Wiley Evers Airport and have her home in time for supper."
In the interview, Abrams also spoke on the need to continue the Democrats' push to restore abortion in states following the overturning of Roe v. Wade.
The MSNBC the interview with Abrams can be seen below.
McDaniel challenges Hosemann to debate series
State Senator Chris McDaniel sent a letter to incumbent Lt. Governor Delbert Hosemann asking him to commit to a series of debates across the state ahead of the August 8th Republican Primary.
"Mississippians deserve transparency from those they entrust to represent them in Jackson," McDaniel wrote. "That's why I'm asking that our campaigns commit to working together and arranging the outlined regional debates across Mississippi prior to August's primary."
McDaniel proposed partnering with local television stations to air the regional debates, suggesting:
WLBT in Jackson
WTVA in Tupelo
WLOX in Gulfport/Biloxi
WHLT in Pine Belt
WREG in DeSoto County
McDaniel also lists the Neshoba County Fair as a possible debate venue. The last time such a debate between Lt. Governor candidates was done at Neshoba was when then-State Treasurer Tate Reeves and then-State Senator Billy Hewes were running for the office.
Hosemann's campaign has not accepted McDaniel's proposal but has said that they have participated in candidate forums already and others are planned in the future.
Hosemann and McDaniel are both actively traversing the state, and both have radio advertising buys in various regions of the Magnolia State.
There are two other Republican Lt. Governor primary candidates in this race. They are Shane Quick and Tiffany Longino.
Hosemann endorsed by Mississippi Manufacturers Association
This week, the Mississippi Manufacturers Association Political Action Committee (MMA PAC), which represents manufacturers across the state, endorsed incumbent Lt. Governor Delbert Hosemann in his bid for re-election.
MMA President and Chief Executive Officer John McKay said Hosemann's record on workforce development and his advocacy for pro-business legislation earned their continued support.
"As Secretary of State, Delbert Hosemann was a champion for industry, spotlighting the challenges the state faces in growing a skilled workforce and increasing our labor force participation rate," McKay said in a statement. "When he became Lt. Governor, Delbert immediately went to work implementing his plans to address these issues while engaging with business, economic development, and community leaders every step of the way."
#####
Magnolia Tribune will bring you more happenings from the Mississippi campaign trail throughout the 2023 election cycle. Be sure and check back often for more updates.
This article first appeared on the Magnolia Tribune and is republished here under a Creative Commons license.
Read original article by clicking here.