This article first appeared on the Magnolia Tribune.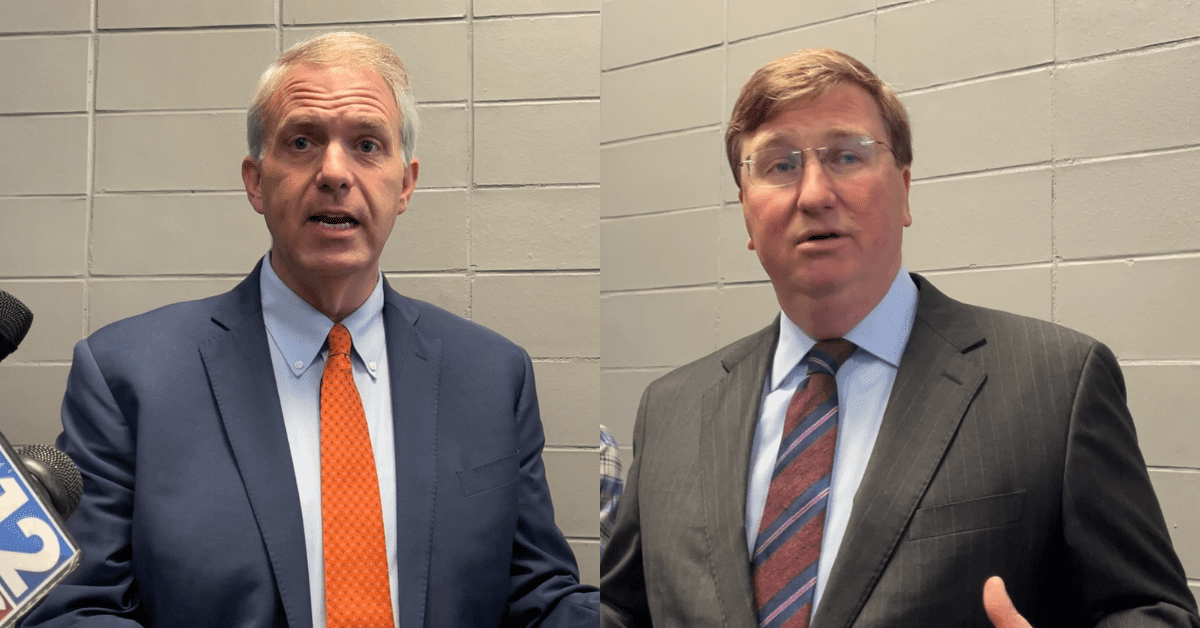 From policy to politics, Republican Governor Reeves and Democratic challenger Brandon Presley don't hold back their criticisms of each other while offering different visions for Mississippi.
Incumbent Republican Governor Tate Reeves and Democratic challenger Brandon Presley were among the statewide candidates to take the stage at the annual Mississippi Economic Council HobNob event on Thursday held in Jackson. MEC is the state's chamber of commerce.
The two candidates hit on similar issues on stage, just as they have throughout the 2023 election cycle. Reeves touted the economic successes of the state since he took office and commented on Presley's national Democratic ties. Presley continued to criticize Reeves for not expanding Medicaid, blaming him for the struggling healthcare system in the state.
Presley talks two crises
Presley said he believes there are two crises in the state that everyone should be concerned about. The first, healthcare and the second, government corruption.
"We have a serious issue in Mississippi where 34 of our hospitals are at risk of closure. Five have cancelled in patient care, now they've become a 24 hour facility and if you need to stay more than 24 hours you have to go to a larger hospital," said Presley
He said that is not only hurting communities but putting a strain on larger hospitals.
Presley stood behind his long-discussed solution to these issues – Medicaid expansion. He said the action would allow for 230,000 individuals in the state to have access to healthcare.
"But I make this pledge, when I am elected governor, we will take steps on Day 1 to begin to take steps to expand Medicaid," Presley said. However, Presley admits he will need lawmakers' support even with an executive order to start the ball rolling. Thus far, expansion talk has not been well received by the supermajority Republican House and Senate.
Reports on the actual impact of Medicaid expansion are conflicting, but many do not believe it to be a catch-all hospital solution.
"The second crisis I want to talk to you about is a crisis of corruption," said Presley. He reemphasized the scandal around TANF funds from 2020 which diverted over $77 million in public funds for what he called "pet projects."
He made additional assertions that people from the business community have said they would like to support him, but are concerned about Reeves being "vindictive."
"If there is a business owner out there today and you're nervous about the Governor, and you're nervous about the governor's office, I want to put your mind at ease," said Presley. "When Brandon Presley is elected governor you won't have to write a campaign check to come see me if you've got an issue with state government."
Reeves focuses on successes
Governor Reeves spent most of his time at the lectern discussing the accomplishments during his tenure.
"Just like every state in the nation, we've been through our share of difficulties. We've seen good times and we've seen not so good times but through it all, we've persevered," said Reeves.
Reeves said since he was elected, economic investments have gone from $900 million yearly, to over $6 billion, which includes the largest project in state history. Jobs and businesses continue to relocate to every region of the state, he said.
Governor Reeves touted low unemployment rates, with the state having more jobs than there are people, and a significant increase in per capita income, which he says is up almost $9,000 yearly per person.
He attributes the state's financial and fiscal success to conservative policies that allow for more money to be returned to taxpayers with initiatives like the individual income tax cut.
"The fact is, Mississippi is headed in the right direction. This is Mississippi's time," said Reeves.
Aside from economic investment, Reeves said reading and graduation rates have significantly improved over the last 10 years thanks to conservative leadership. He also mentioned major infrastructure investments across the state.
Governor Reeves spoke directly to Presley's criticism, saying he was committed to address the problem in the healthcare industry. He announced Medicaid reimbursement reforms aimed at infusing roughly $700 million into state hospitals.
"I want everyone to know that I am committed to address the problem in Mississippi," Governor Reeves told attendees. "It's the reason that virtually every single healthcare leader in Mississippi including the University of Mississippi Medical Center stood behind me several weeks ago when we announced a plan to provide $673 million to help shore up their finances. It is a far better plan than expanding welfare."
However, Reeves did not indicate any change of his position on Medicaid expansion, continuing to refer to Medicaid as a "welfare program."
Politics at play
Presley told the crowd that if it weren't for "the partisanship and the cheapness of politics, we would expand Medicaid right now."
Still, Presley says he believes he can better work with lawmakers than Reeves, looking for bipartisanship in the Legislature.
In the press gaggle following the speeches, the Democratic nominee said Reeves "chickened out" of four debates after Presley asked for five forums. Reeves agreed to one slated for next week.
"I think we could have had a much more robust campaign on the issues out there had the voters been able to see us five times between October 1st and election day, but it's obvious the Governor chickened out of doing those debates," Presley said.
Presley accused Reeves of being "cheap" and "petty," and of twisting the arms of the business community for their backing.
"People in Mississippi are ready to turn the page on Tate Reeves," Presley said.
Governor Reeves told reporters that Presley "doesn't have any original thoughts," taking his talking points from the Democratic National Committee and poll testing before he says anything. Reeves said that is the case with Presley's recent comments on the minimum wage and transgender surgeries for minors.
Reeves went on to say the difference between a state like Mississippi with conservative policies and what Democratic policies like what is seen through the Biden Administration "could not be further diametrically opposed."
"My opponent started this race by lying about me and attacking me because he can't talk about the policies that he and his administration would enact under the Biden Administration. That's the reason he's attacking me," Reeves said.
The Governor said adding 300,000 able-bodied adults to the welfare rolls "is not the right thing to do for Mississippi."
"These individuals, like my opponent, 1.1 million on Medicaid is not going to satisfy them – 1.1 million is not going to be enough. They want everybody to have government run healthcare. That is their ultimate goal. Barack Obama was clear when he ran in 2008 and when he enacted the Affordable Care Act," Reeves said, adding that Presley support the former Democratic President.
Reeves said the financial windfall Presley claims "is fictitious, it's not there," noting his recent reimbursement reform proposal is backed by hospital administrators and experts to provide real relied.
Also speaking at the 2023 HobNob event were candidates for the other seven statewide offices on the General Election ballot, both on the Republican and Democratic side. Republican candidates hold the odds-on advantage in every statewide race, with the governor's race being the most widely watched this cycle.
This article first appeared on the Magnolia Tribune and is republished here under a Creative Commons license.
Read original article by clicking here.