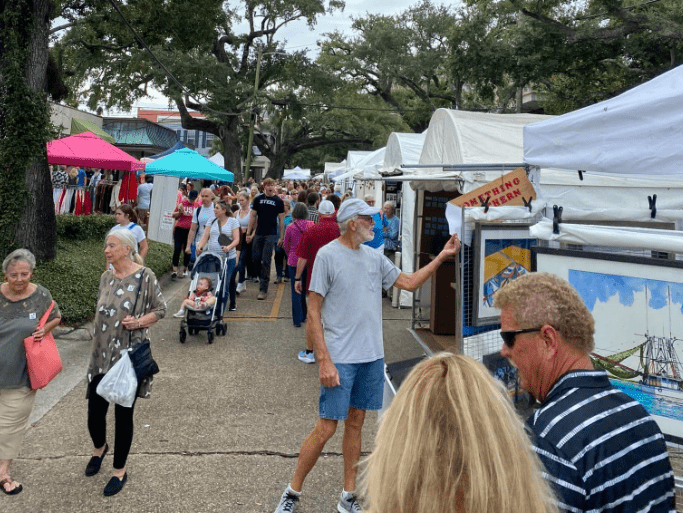 (Photo from Ocean Springs Main Street-Chamber Facebook Page)
Columnist Phil Hardwick says effective organizations measure things. He highlights Mississippi Main Street's measurables which are having an impact on businesses and local communities across the state.
Not long ago, I went in and had some of my blood removed so that it could be analyzed in preparation for my annual physical exam the following week. Not a delightful experience, but a necessary one that should result in a healthier me. When things such as cholesterol, triglycerides, and who knows what else are monitored it can help me adjust my lifestyle accordingly.
It occurred to me that every community and organization should have an annual exam. Many already do so in the form of a Mayor's State of City Address or an annual report.
So, here's a question for you: What should be measured and reported in a city or county every year at annual exam time? Assessed valuation? Sales tax collections? Population change?
One of the tenets of Total Quality Management (TQM) is that if it can't be measured, it can't be managed. Measuring things is a way to gauge your town's progress. After all, how do you know you're being successful if you don't measure that success?
Effective organizations measure things. One organization immediately comes to mind when I think about this. It is the National Main Street Association. Its Standards of Performance for community membership include reporting key community statistics. The following is taken from its website:
9. Reports key statistics.

Tracking statistics — reinvestment, job and business creation, and so on — provides a tangible measurement of the local Main Street program's progress and is crucial to garnering financial and programmatic support for the revitalization effort. Statistics must be collected on a regular, ongoing basis.

Guidelines:

The program collects and tallies statistics related to the revitalization movement, using the baseline criteria listed below. It should keep this data from year to year, providing an economic record of the program's impact over the course of its history. This information is distributed regularly to constituents and in the annual report.

The program submits regular reports to the statewide, countywide, or citywide Main Street coordinating program (either monthly or quarterly, as specified by the coordinating program).
The organization requires the following baseline data:
Community population
Net of all gains and losses in jobs
Net of all gains and losses in new businesses
Number of building rehabilitation projects
Number of public improvement projects
Number of new construction projects
Number of housing units created: upper floor or other
Monetary value of private investment spent in above projects: i.e., individuals or private sources of money spent on building rehabs, public improvements, or new construction
Monetary value of public investment spent in above projects: i.e., city, county, state, or federal money spent on building rehabs, public improvements, or new construction
Monetary value total of all investment and public and private investment
Ground-floor vacancy rate when your program started
Ground-floor vacancy rate now
Rental rate per square foot when program started
Rental rate per square foot now
Your program's annual operating budget
The Mississippi Main Street program, one of the nation's most recognized, is an excellent example of measuring and disclosing its numbers. The following is from its 2022 economic impact report.
42,255 volunteer hours
82,123,804 private dollars invested
160,031,068 public dollars invested
79 public improvement projects completed 
24 new construction projects completed
817 downtown living spaces
841 new jobs
56 business expansions
495 new businesses 
So, what should your community measure?
Obviously, if you want your community to be a Main Street Community, you will need to measure the above items. But at a minimum, you should measure sales tax collections and the total value of real property. They are easy to measure because they have already been tabulated by other sources, such as your local and state taxing authorities. 
That's just the beginning. Dig deeper to find out, for example, how many properties are paying less taxes because of exemptions and how many businesses expanded or went out of business.
Measuring things is a good way to spot trends regarding things that matter. Look at your town's sales tax collections for the past few years. Do you see any trends? For example, which month has the highest sales tax collections? What's the reason for that? Can it be influenced?
Remember, it's all in the numbers.
Read original article by clicking here.