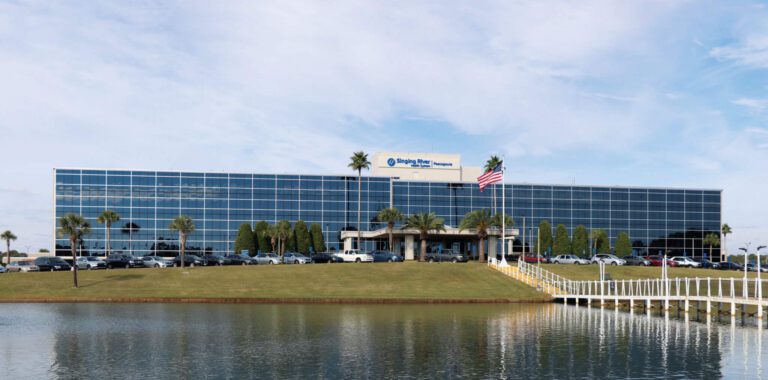 Singing River Hospital in Pascagoula (photo from SRHS website)
Both parties said they engaged in extensive negotiations in an effort to reach an agreement, but ultimately, consensus could not be achieved.
On Wednesday, the Jackson County Board of Supervisors and Franciscan Missionaries of Our Lady Health System (FMOLHS) announced that they have made the joint decision to terminate ongoing discussions regarding the potential sale of Singing River Health System.
Details of the proposed sale have not been released to the public.
The two entities said in a statement that the decision follows months of dialogue and negotiations after FMOLHS, headquartered in Louisiana, was selected as the preferred buyer for Singing River Health System through a rigorous Request for Proposal process in late March.
Singing River had a partnership with New Orleans' Oschner Health which led many in the community to believe Oschner would be the leading contender. However, that was not the case.
Both parties said they engaged in extensive negotiations in an effort to reach an agreement, but ultimately, consensus could not be achieved.
Jackson County Board of Supervisors President Ken Taylor was confident in the Board's commitment to finding the ideal partner to fulfill the health system's long-term objectives and ensure the continuous delivery of top-quality patient care.
"We remain resolute in our dedication to preserving SRHS's exceptional legacy, which spans over eight decades," Taylor said in a statement. 
For their part, FMOLHS's President and CEO Dr. Richard Vath said that throughout the entire RFP process, the Jackson County Board of Supervisors and Singing River have been engaging and clearly committed to delivering quality healthcare to the people of the Mississippi Gulf Coast.
"We have been quite impressed with SRHS and the County Board's approach to their mission," said Vath. "At this unprecedented time of uncertainty in healthcare, we regret that both parties could not reach consensus. We wish the very best for Jackson County and SRHS in the future."
FMOLHS is a nonprofit, mission-focused Catholic healthcare ministry founded in 1911. It operates St. Dominic's Hospital in Jackson along with its other hospitals and offices throughout Louisiana.
In March, Supervisor Taylor said the Board has received "multiple proposals" regarding the potential sales of the health system, which is county owned and headquartered in Jackson County but reaches into Harrison County as well. The health system includes three hospitals – Pascagoula, Ocean Springs, and Gulfport – and 30 primary care medical clinics, community medical parks, and specialty centers throughout the area.
Raymond James had provided a report to the county in late 2022 which showed the Business Enterprise Value of Singing River to be between $220 to $300 million and the Equity Value to be between $158 to $238 million.
Currently, Singing River is being managed by interim CEO Laurin St. Pe after Tiffany Murdock announced her resignation in June. Murdock was the first woman to serve as CEO of the health system. Her resignation came the same week as FMOLHS's St. Dominic's CEO announced his resignation as well.
Interim Singing River CEO said the health system will continue to provide the best care possible for the community while working with the Board of Supervisors.
"Our primary focus at Singing River is, and always will be, the well-being of our patients and the communities we serve.  We will continue to work closely with the BOS to help us achieve our long-term goals and ensure our patients have the high-quality care they expect from Singing River," said St. Pe. 
Read original article by clicking here.