This article first appeared on the Magnolia Tribune.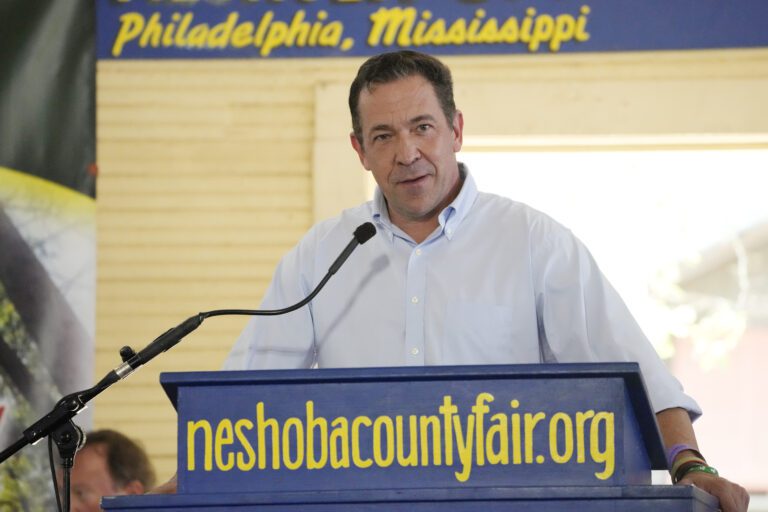 Republican candidate for lieutenant governor State Sen. Chris McDaniel addresses the crowd at the Neshoba County Fair. (AP Photo/Rogelio V. Solis)
Jameson Taylor of AFA Action shares his opinion on the two leading candidates for Lt. Governor.
It would be easy to frame the Mississippi lt. governor's race as a narrative of the status quo Goliath, Delbert Hosemann, against the perpetual status quo challenger, Chris McDaniel. And, to some extent, that would be correct.
Objectively speaking, though, if we really think about it, we would discover that Hosemann is the real outsider.
Hosemann is a moderate who supports higher taxes, welfare expansion, and more public spending. By contrast, McDaniel's record aligns more closely with his Republican colleagues. He wants to cut taxes, reform welfare, and trusts people more than government.
I have detailed elsewhere all that Republicans have accomplished since taking office in 2012. Under Speaker Philip Gunn, then-Lt. Gov. Tate Reeves, and then-governor Phil Bryant, Mississippi lawmakers enjoyed an impressive run. Together, they passed the bill that overturned Roe v. Wade, for example, but also enacted the nation's strongest religious liberty protections and gold-standard welfare-to-work reform.
Chris McDaniel played a part in each of these wins. In 2013, working with both Republicans and Democrats, McDaniel sponsored the Student Religious Liberties Act. At the signing, Gov. Bryant called the bill "very important." It is one reason Mississippi earned the top spot for religious freedom in 2022.
A year later, however, Mississippi fell three spots, primarily because Hosemann refused, yet again, to support a religious vaccine exemption for school children. Fortunately, a federal district court determined Mississippi parents have a constitutional right to such an exemption–a cause Chris McDaniel has been championing for years.
McDaniel's pro-life credentials are also without question–attested to by the fact that he was one of only three senators targeted by the Center for Reproductive Rights in their attempt to undermine all of Mississippi's pro-life protections.
As for Hosemann's endorsement by Mississippi Right to Life: the group has had no discernable presence at the capitol since 2016 and doesn't seem to have done anything except endorse Hosemann in 2019 and, again, in 2023. Meanwhile, the Hosemann campaign is trying to silence, with cease-and-desist letters, radio stations that highlight his largely unexplained connection to a Jackson abortion clinic.
McDaniel has also fought to allow prayer-release time in schools and to protect women's sports. The prayer-release bill died four times in the senate in 2023, despite Speaker Gunn practically begging Hosemann to pass it because of the incredible good it would do for kids in Mississippi public schools. The second bill only passed the senate in 2021, much weakened, after the House amended another bill (HB 1030, amendment 3) to force the issue. Prior to that, Hosemann killed bills to protect women's sports and to prevent minors from undergoing experimental transgender procedures by sending them to a committee chaired by a liberal Democrat.
The story is the same on almost every issue. Hosemann has been the roadblock to conservative policy in Mississippi, and McDaniel has been the roadblock to Hosemann. When Hosemann wanted to expand Obamacare to able-bodied adults, McDaniel opposed him, along with the House and the Governor. When Hosemann sought to strip away basic welfare fraud protections, McDaniel opposed him and the House killed it. The only exception to this rule was the state flag – which, frankly, is a settled issue. But, then again, Hosemann was not the difference maker in that effort, courageously led by Speaker Gunn.
The same goes for the income tax. In 2021, Hosemann didn't even allow the House plan to eliminate the income tax to come up for a committee hearing. In 2022, he fought the House and the Governor the entire time and is widely recognized as the sole reason Mississippi is not responsibly moving forward in eliminating its state income tax.
Chris McDaniel has a verified record as a conservative lawmaker. He has been a leading voice in defending conservative polices in the senate–the same policies supported by Speaker Philip Gunn and Governor Tate Reeves. Some have framed McDaniel as an outsider. Certainly, he is a fighter. But he's been fighting against a liberal agenda that keeps rearing its head in the Mississippi Senate and that seems more aligned with Democrat priorities (like fully funding MAEP and expanding Medicaid) than Republican goals.
McDaniel is the one standing up for Mississippi conservative values: limited government, strong families, and personal responsibility. That doesn't mean he's perfect, but, at least, he can articulate a clear vision of what it means to be a conservative. Like Chris McDaniel, many of us believe these things are worth fighting for.
This article first appeared on the Magnolia Tribune and is republished here under a Creative Commons license.
Read original article by clicking here.