This article first appeared on the Magnolia Tribune.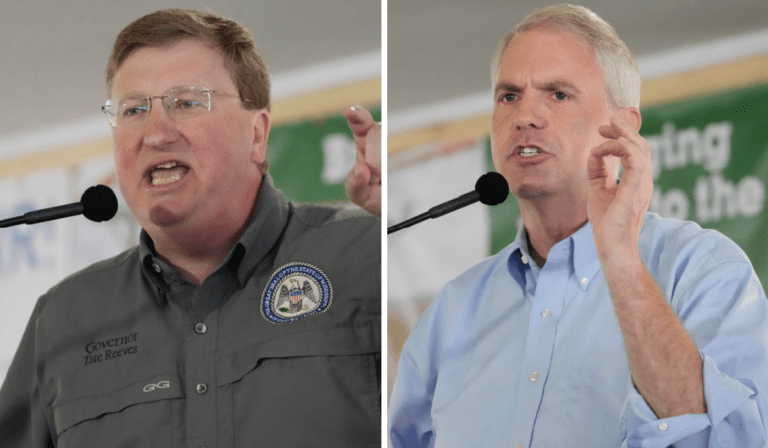 (AP Photos/Rogelio V. Solis)
The Democratic Governors Association sent Brandon Presley $750,000 in July. Even after the big gift, incumbent Governor Tate Reeves still has five times the cash-on-hand to finish the race.
Democratic challenger for governor Brandon Presley needs a big influx of dollars to build name identification and take swings at Republican incumbent Tate Reeves. Presley received a real infusion in the month of July in the form of a $750,000 donation from the Democratic Governors Association.
The gift brought Presley's haul to $1.128 million for the campaign finance reporting period between July 11th and August 1st and bolstered his yearly receipts just north of $3.4 million. The Northern District Public Service Commissioner reports approximately $1.55 million in cash-on-hand.
Reeves, however, remains cash king. He's raised over $9.6 million this cycle. The current Governor's report shows plenty of dry powder, with over $7.4 million in cash on hand to finish the race. That's roughly 5X Presley's current reserves.
Reeves money advantage is amplified by the built-in name ID of having been elected statewide five times. It's also bolstered by a Republican label that since the early 2000s has dominated Mississippi politics.
Following the reported DGA gift, Presley's campaign released a statement:
The real Mississippi momentum is behind Brandon Presley's campaign to bring change to the governor's office. This record-breaking fundraising further proves that Mississippians are ready to elect Brandon Presley, who will end corruption, stop Tate Reeves' healthcare crisis, and cut car tag fees in half.
The talking points are familiar to anyone who has been following Presley's campaign, which has largely sought to gain ground on the back of Medicaid expansion and the TANF welfare scandal. Reeves was Lieutenant Governor when the scandal unfurled and has not been implicated, investigated, or charged with any wrongdoing.
While Presley remains dramatically behind Reeves in fundraising and cash-on-hand, to his credit, he is outpacing 2019 Democratic candidate for governor Jim Hood. At this time in the 2019 election cycle, former Attorney General Hood had raised only $1.58 million, with $902,000 in the sitting in the bank.
The Democratic Governor's Association also invested heavily in Hood, but its gifts started later in the cycle. In September of the 2019 cycle, the DGA's first gift to Hood was similarly $750,000. It ultimately poured more than $2.35 million into his campaign. Hood would raise nearly $5.7 million total for the race, but come up 5 points short.
Reeves general election contest with Hood was preceded in 2019 by a brutal Republican Party Primary against former Supreme Court Justice Bill Waller and populist firebrand Robert Foster. This election, Reeves faces nominal competition in the Republican Primary next Tuesday. Relative unknowns John Witcher and David Hardigree both report under $10,000 cash-on-hand.
Both political parties have organizations in place to help gubernatorial candidates. Mississippi Strong, a PAC funded by the Republican Governors Association, for example, gave Reeves $500,000 in June. What remains to be seen for Presley is whether the gift from the DGA portends steeper investments and at what level.
In Kentucky, where the DGA is actively involved in defending incumbent Andy Beshear from a Republican onslaught, it has already contributed more than $3 million to the "Defending Bluegrass Values PAC." That's four times the initial gift to Presley. In the 2019 cycle, the DGA contributed $8 million to the "Gumbo PAC" in Louisiana to support John Bel Edwards re-election efforts.
By contrast, in 2015, it contributed $2.25 million to the Gumbo PAC, an amount similar to the investment in Hood's failed 2019 effort. An obvious point of distinction is that both Beshear's 2023 race in Kentucky and Edwards 2019 contest in Louisiana were incumbent defenses for the DGA.
For Presley to compete, he needs "incumbent protection" type money for an incumbent challenge. In the interim, it's too early to read anything into the DGAs gift. The challenger will need to prove he can make up ground with what he has if he hopes to draw down more manna from blue state donors.
This article first appeared on the Magnolia Tribune and is republished here under a Creative Commons license.
Read original article by clicking here.