This article first appeared on the Magnolia Tribune.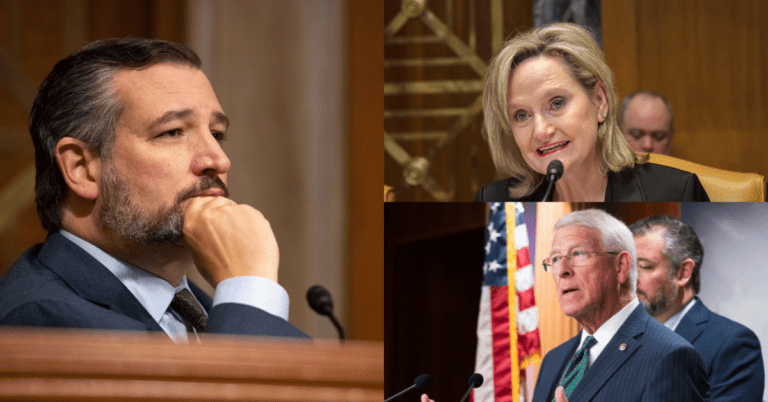 U.S. Senators Ted Cruz (TX), Cindy Hyde-Smith (MS) and Roger Wicker (MS).
Hosemann and McDaniel have also recently announced other endorsements. McDaniel is backed by the Mississippi Fraternal Order of Police while Hosemann is being supported by the Gulf Coast Business Council Political Action Committee.
As Tuesday's hotly contested Republican Lt. Governor primary election draws near in Mississippi, endorsements from those backing the incumbent Delbert Hosemann and his main challenger State Senator Chris McDaniel are piling up in hopes of swinging undecided voters their way.
One such endorsement came for McDaniel on Thursday, as Texas U.S. Senator Ted Cruz formally threw his support behind the Jones County lawmaker. Senator Cruz, a conservative stalwart, shared the following statement endorsing McDaniel:
Now, more than ever, we need strong conservative leaders and dedicated fighters, which is why I am proud to endorse Senator McDaniel for Mississippi Lieutenant Governor. A conservative champion, defender of life, and staunch advocate of the Second Amendment, McDaniel represents what it means to be a true conservative leader at a time when our values are under attack. Get out and vote next Tuesday to protect the great state of Mississippi and its conservative principles.
This isn't the first time the two have worked together in an election. During the lead up to the 2016 presidential primaries, McDaniel endorsed and actively campaigned in Mississippi for Cruz for President. Cruz also backed McDaniel's failed 2014 election challenge in the wake of his runoff loss to then-U.S. Senator Thad Cochran.
McDaniel told Magnolia Tribune that he is proud to have earned Cruz's support in this Lt. Governor race.
"Senator Cruz champions Mississippi values in Washington and I am proud to have earned his support," McDaniel said. "Sen. Cruz remains a staunch, principled conservative regardless of special interest pressure. I thank him for his support and look forward to championing Mississippi's values in the Lieutenant Governor's office."
In response to the news, Lt. Governor Hosemann told Magnolia Tribune, "There are two U.S. Senators that Mississippi cares about: Roger Wicker and Cindy Hyde-Smith – and they are supporting me."
Last week at the Neshoba County Fair, Senator Hyde-Smith walked the grounds with Hosemann, shaking hands and greeting fairgoers. This week, a video surfaced of Hyde-Smith defending Hosemann's record as being pro-life. McDaniel has raised questions about Hosemann's role in a Jackson area OBGYN clinic that provided abortions in the 1980s.
"Anybody that says Delbert Hosemann is not pro-life, that is just a lie," Senator Hyde-Smith said in the video that has been shared across social media. "I've worked with every national pro-life group in the entire country, and he's as pro-life as I am."
Hyde-Smith is the Chairman of the Pro-Life Caucus in the U.S. Senate. She ran against McDaniel and Mike Espy in the 2018 special election to fill the U.S. Senate vacated by the retiring Cochran. Hyde-Smith, who had been temporarily appointed to the seat by then-Governor Phil Bryant, went on to win that election in a runoff with Espy. McDaniel finished third in the four-person race.
Hosemann's statement of being backed by Mississippi's senior U.S. Senator Roger Wicker is also newsworthy, as up until Thursday Wicker had not publicly offered an endorsement. Wicker's office confirmed to Magnolia Tribune that he is supporting Hosemann's re-election.
Hosemann and McDaniel have also recently announced other endorsements from various organizations in Mississippi, including an endorsement for McDaniel from the Mississippi Fraternal Order of Police followed by an endorsement for Hosemann from the Gulf Coast Business Council Political Action Committee, among others.
The two will meet on the ballot in Tuesday's Republican Primary along with Tiffany Longino, who is also running under the GOP banner for Lt. Governor.
This article first appeared on the Magnolia Tribune and is republished here under a Creative Commons license.
Read original article by clicking here.