This article first appeared on the Magnolia Tribune.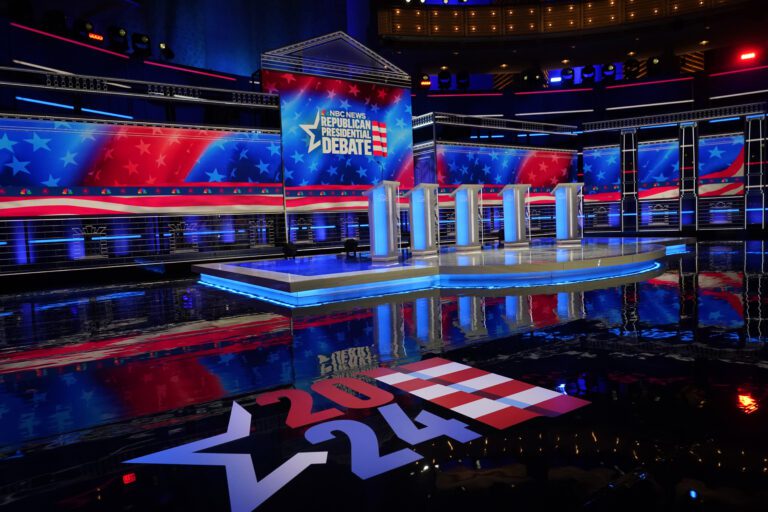 The stage is set, Tuesday, Nov. 7, 2023, for the third Republican presidential debate in Miami. Five hopefuls will participate in the debate at the Adrienne Arsht Center for the Performing Arts of Miami-Dade County, according to the Republican National Committee. They are Florida Gov. Ron DeSantis, businessman Vivek Ramaswamy, former U.N. Ambassador Nikki Haley, Sen. Tim Scott, R-S.C., and former New Jersey Gov. Chris Christie. (AP Photo/Wilfredo Lee)
The former President will not attend Wednesday's debate, choosing instead to hold a rally just miles away in South Florida.
Five Republican Presidential candidates will square off Wednesday night in Miami, Florida for the third debate of the 2024 election cycle.
On stage will be Florida Governor Ron DeSantis, former South Carolina Governor and United Nations Ambassador Nikki Haley, businessman Vivek Ramaswamy, former New Jersey Governor Chris Christie, and South Carolina U.S. Senator Tim Scott.
The Republican front-runner, former President Donald Trump, is not participating in the debate. He has skipped each of the first two debates as well. Instead, Trump will hold a rally just miles away in South Florida.
Since the second debate, Trump's former Vice President Mike Pence has dropped out of the race.
To make it on stage for the third debate, candidates had to be at 4% in two national polls or one national poll and two polls from separate early-voting states such as Iowa, New Hampshire, Nevada, and South Carolina. In addition, the candidates had to have accumulated 70,000 unique donors with a minimum of 200 donors coming from 20 states.
According to the latest polling from CNN ahead of the debate, as reported by RealClearPolitics, Trump continues to lead the pack by a wide margin. The former President comes in at 44% with DeSantis in second at 17% following by Haley with 10%, Ramaswamy at 4%, Scott at 3% and Christie at 2%.
The debate is being aired by NBC and will begin at 7:00pm CT. Moderators will be "NBC Nightly News" anchor Lester Holt and "Meet the Press" moderator Kristen Welker. Hugh Hewitt, host of "The Hugh Hewitt Show" on Salem Radio Network, will join Holt and Welker.
A fourth Republican Presidential debate has been set for December 6th in Tuscaloosa, Alabama. With each debate, the requirements to make it on the stage increases. Candidates must reach both higher polling and donor thresholds to be included.
This article first appeared on the Magnolia Tribune and is republished here under a Creative Commons license.
Read original article by clicking here.