This article first appeared on the Magnolia Tribune.
Beasley's book "We Will Not Be Home For Christmas" helps honor veterans. The author donates profits to Wreaths Across America, a charity his then-retired father favored and started promoting with his Eagle Scouts in Copiah County.
December 23, 2004, looms large in Dale Beasley's memory bank—and drives what the Iraq War veteran knows shifted his perspective from somewhat selfish to ashamed and altruistic.
Veteran – that's the descriptive Beasley favors. He also describes himself as "tired, grateful, humbled, and devoted to giving back to those I served with and those other soldiers who came before and follow us."
Beasley served in the Second Battle of Fallujah, at US Navy hospital, Camp Arifjan, Kuwait. Thousands of service members and contractors pass through Camp Arifjan either on their way to or from countries in Southwest Asia. In that campaign, also called Operation Al-Fajr ("Dawn") and Operation Phantom Fury, joint American, Iraqi, and British military crushed the Islamic insurgents in Fallujah, Iraq, in the Sunni Muslim province of Al-Anbar.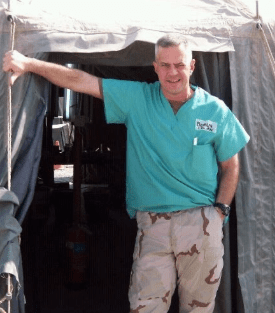 The operation began November 7, 2004, and ended more than six weeks later on December 23. In that bloodiest battle of the Iraq War, Beasley served with "eight of the finest Americans in my entire life: Muslims, Jews, Hispanics, Blacks, Cajuns, Creoles and American Indian. We were as different as night and day but became family." Treating trauma victims at the base camp orthopedic hospital, he was there for eleven months, fourteen days, and six-and-a-half hours. After that day's shift, he learned that his unit—suddenly and quickly—was headed home.
Lieutenant Colonel Dale Beasley of Mississippi and other soldiers on December 23 filled the "Freedom-Bird" at Ali Al Salem Airbase, just twenty-three miles inside the Iraqi-Kuwait Border. Their thoughts of actually getting home for Christmas turned into conversations up and down the tarmac stairwell and airplane aisles.
Passengers quickly learned that the Delta Airline flight attendants, obviously older women, had not been drafted for the freedom trips but had put in bids to fly into a warzone to bring "their boys" home. Several hours into the flight, the captain announced they would fly into Rome to resupply but nobody would be allowed to get off the plane.
"But these were war veterans," Beasley recalled. "We got off the plane anyway; many smoked, and some just enjoyed smelling the air. The air smelled green, and green had been a forgotten color and scent in the desert."
Several hours later, their first stop in the USA was in Bangor, Maine, where the "Maine Troop Greeters" treated the soldiers to breakfast. LTC Beasley said that "one of the servers wore a scarf and still had chemo markings on her neck. When I told her she shouldn't be around us, she responded that her son was still in Iraq. I had to hug her."
Back in the air a few hours after, the pilot revealed a previously unannounced stop. On the ground and from inside the airplane, soldiers saw the ground crew begin to unload the flag-draped coffins of fallen warriors. Nobody on that plane said a word until they landed at Fort Bliss, Texas.
With blood still on his uniform from the nineteen-, twenty-, and twenty-one-year-old warriors he had tended in Fallujah, Beasley felt transformed. That flight planted the idea for his We Will Not Be Home For Christmas, a collection of letters, postcards, pictures, and stories of soldiers from earlier wars who also had been delivered the unfilled promise that they would be home for Christmas. Launched in 2022, the full-color coffee table book gives Beasley one way to give back financially.
"Everybody has a veteran in the family or among their friends," Beasley said. "They are interested in learning the stories of soldiers who served during wars."
Individuals who buy the book help honor veterans because he donates profits to Wreaths Across America, a charity his then-retired father favored and started promoting with his Eagle Scouts in Copiah County. The national non-profit Wreaths Across America aims to remember, honor, and teach and carries out that mission, in part, by coordinating wreath-laying ceremonies in more than 2,500 participating locations both home and abroad. Beasley said, quoting President Lincoln, their mission is "altogether fitting and proper."
 "I am pleased to bring this book to you and hope in reading it, you may find a deeper appreciation of the holidays and for the sacrifices endured by so many," Beasley said.
The author intends to update this commemorative with more collected communications from soldiers not included in this first edition. Future books will feature stories from veterans and their families of the Vietnam, Gulf, Iraq, and Afghanistan Wars.
 A sixth-generation retired soldier whose two sons also claim military service, Beasley credits his father—the late retired Brigadier General Glenn D. Beasley, Sr.—with both "pissing me off by putting me in the army right out of high school and also giving me a gift." After three months at Fort McClellan, Alabama, he went to Fort Sam Houston, Texas, for medical training and to LSU in New Orleans for advanced trauma education.
"That humbled me and helped me. I went in as a private, and I learned from and served with other enlisted men; I learned how they felt and what they thought as men in the ranks, not privileged."
Beasley advanced to private first class, corporal, and sergeant during those first five years. As a military brat, he had lived in Germany, Texas, and Virginia, close to his father's job at the Pentagon. Then he went to University of Southern Mississippi and joined ROTC, achieving second lieutenant. At no time did he reveal his father's rank as general.
"I kept my mouth shut and earned the respect of my fellows. I did the same work they did."
A USM graduate, he rejoined the army full time, with assignments from Fort Polk, Louisiana, to Germany, Korea, and the Middle East, first in 2000 attached to the British Army to learn accountability and preventive medicine. He also is a graduate of Academy of Health Sciences and United States Army Command and General Staff College. A member of the United States Army Medical Service Corps Regiment, Beasley is an honorary member of HRH Queen Elizabeth's Royal Medical Corps. He is a member of the Veterans of Foreign Wars and the American Legion.
Beasley retired in 2012 after a brilliant thirty-one-year military career, a soldier who wore a pistol but never fired a shot; he was an army nurse, a healer.
"My life would be empty had I not served in the war," he said as he considered Israel's current war against Hamas and Hezbollah. "I cannot think about it because I know what it's like. I was forty-four years old in Iraq, and they called me Pops. I was old—they were all babies, children."
Now his patients come primarily from his own community. For eight years, he has worked as a trauma/emergency room nurse at Merit Health Madison—"good people, and we've grown attached," he said.
The veteran who can claim portraits of his forebears in military and other museums, also writes novels. His first book, What I Learned At The 'Zoo, published in 2020, delivers a funny, fictionalized account of his fourteenth summer with family in Yazoo City. Multiple times over six weeks, the title made Mississippi Reads "top 10" list compiled by University Press of Mississippi based on sales at independent booksellers. Both books are available from Lemuria and other local independent bookstores and from his website, www.DaleBeasley.com.
Characters from The 'Zoo will appear again in 2024 on the pages of What I Learned in Bastogne, a prequel set in the 1940s. Historic fiction, the book is based on stories from older family veterans—especially his Uncle Dallas, an interpreter at the Nuremberg trials—and his own emotional recollections from war. Beasley takes readers solidly into World War II, from Yazoo City to the Louisiana Maneuvers, to the Battle of the Bulge. Accordingly, he commemorates and honors those warriors who could not come home.
This article first appeared on the Magnolia Tribune and is republished here under a Creative Commons license.
Read original article by clicking here.