This article first appeared on the Magnolia Tribune.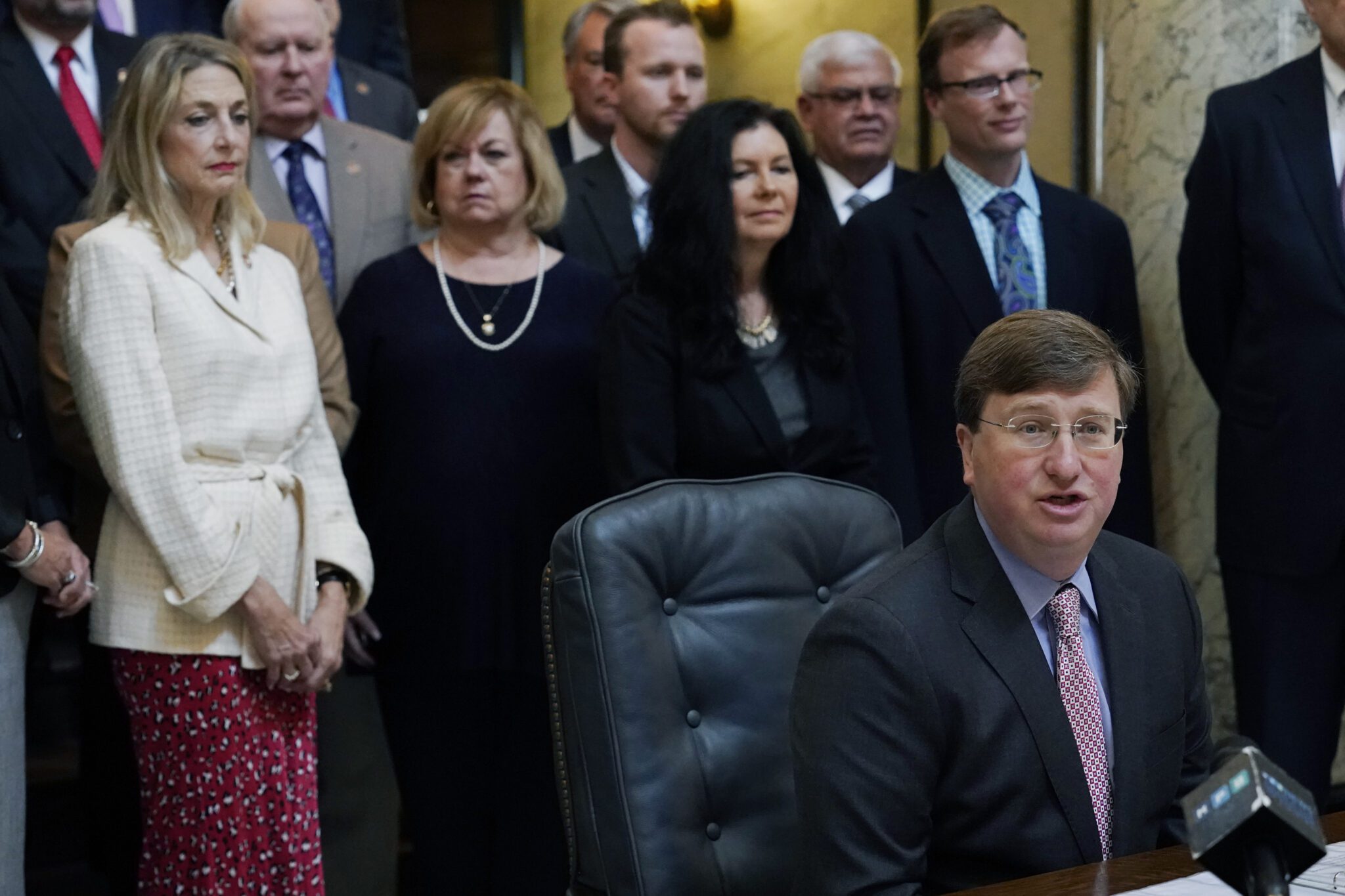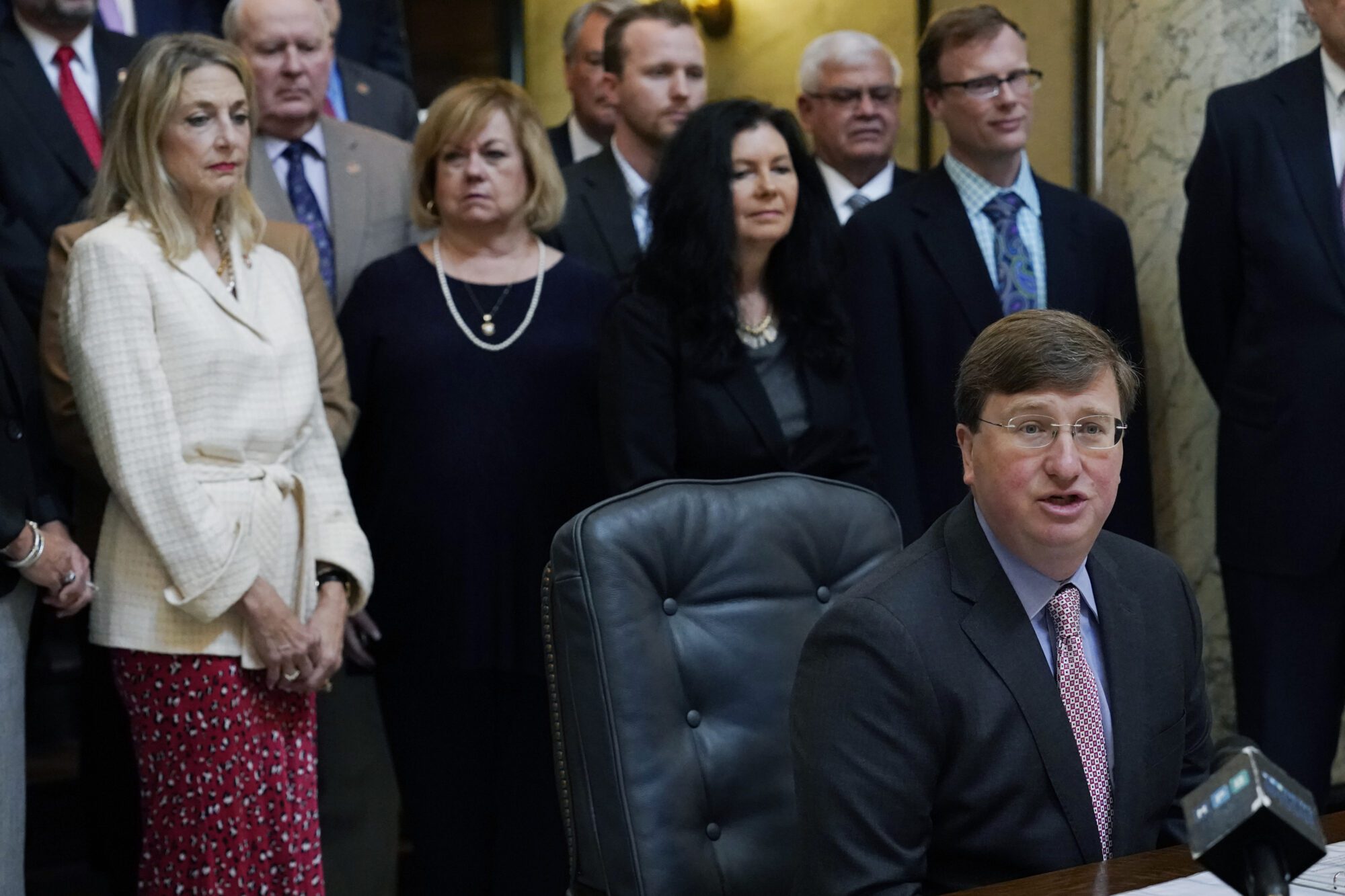 With supporters and lawmakers standing behind him, Mississippi Gov. Tate Reeves explains to reporters why he signed the first state bill in the U.S. this year to ban transgender athletes from competing on female sports teams, Thursday, March 11, 2021, at the Capitol in Jackson, Miss. (AP Photo/Rogelio V. Solis)
Mississippi passed the Fairness Act in 2021 to prevent biological males from competing in women's sports. The Biden Administration has taken steps to undo laws of this type.
In 2021, State Senator Angela Hill authored the Mississippi Fairness Act. The law prohibits biological males who identify as female from competing in women's sports in public schools and at the university level.
Hill said the vote on the Fairness Act was "the simplest litmus test of how far left and how out of touch with [Mississippi] somebody is, especially a woman, voting against keeping men out of women's sports."
Governor Tate Reeves then signed the bill into law.
"I'm the father of three girls. They all play sports. I refuse to sit back and allow biological males to take opportunities from them and other girls. In Mississippi, boys will play boys' sports and girls will play girls' sports. It's just common sense, and it's why I was proud to sign the Fairness Act into law," Reeves told the Magnolia Tribune in October.
The bill originally sparked conversation after the President Joe Biden signed an Executive Order to include gender identity questions within the federal prohibition against sex discrimination. This caused concern for many conservative leaders when it came to the protection of women and girls' sports from biological male participation.
The discussion over transgender rights and competition on boys' and girls' teams in school sports continues to climb to a federal level.
Next Steps on Federal Regulation
Earlier this year, the Biden Administration proposed a rule change that could allow schools to block some transgender athletes from competing on sports teams based on their gender identity preference. However, a school seeking to limit a transgender person from competing would have to prove that allowing that person to compete in a league with players of the opposite biological sex would undermine competitive fairness.
While the proposal is early in the rule making process, if enacted, it would become part of Title IX which protects against sex-based discrimination in educational settings. The rule would prevent any school or college that receives federal funding from implementing an overall ban on transgender athletes from competing with based on their gender identity preference.
This rule would place the federal government in conflict with the 22 states, including Mississippi, that currently have total bans in effect from K-12 through colleges and universities.
Democratic candidate for Governor in Mississippi, Brandon Presley, has also indicated he opposes the participation of biological males in female only sports.
"I don't think boys should be playing against girls, and girls shouldn't be playing against boys. I don't think minors should be getting surgery to change their gender," said Presley in August.
Presley did not respond immediately for additional comments.
Public opinion of minor care
A survey done over the summer by Gallup found that 69 percent of Americans believe transgender athletes should only be allowed to compete on sports teams that correspond with their biological sex. The poll interviewed roughly 1,000 adults in May. This number was compared to 62 percent in 2021, which indicates more and more Americans are moving away from the idea that transgender athletes should participate on teams of their gender identity.
The same poll found that 55 percent of Americans find "changing one's gender" to be morally wrong.
Those opposed to biological males competing in women's sports say that they have unfair competitive advantages that stem from their biological genetics.
Riley Gaines, a record setting swimmer, has become an advocate on the issue. Gaines tied a biological male at an NCAA Championship but was forced to yield the podium and her award to the other swimmer. Since then, Gaines has become a spokesperson with the Independent Women's Forum on the issues of biological males competing in women's sports.
"It seems pretty wild that we do need legislation that does [defines a woman] so. But it's very important. It would protect things far beyond just women's sports. It would protect things like prisons and shelters and changing spaces in areas like a YMCA or something of that nature, and really just anywhere where the term woman is used," Gaines told Magnolia Tribune at a March MCPP event.
Mississippi Center for Public Policy CEO Douglas Carswell said the Fairness Act, which he commended Lesley Davis and Senator Hill for championing, was the right step for Mississippi. Now, he believes lawmakers need to move forward and codify state law with a clear definition of what a woman is.
"I think this is necessary, I think it will prevent someone like Riley Gaines, in Mississippi, from going through what she went through," said Carswell. "If someone says they're all of a sudden a woman they could get the protections of Title IX, so if the state codifies the previously self-evident definition of women it could protect those rights for biological women."
In the event the federal government moves forward in approving the proposed Biden rule, there would be conflict with the current state law. Carswell said this would likely lead to lawsuits from the many states who have implemented bans. An action, he said, is welcome.
"I would honestly welcome a court challenge if they move forward with their rule. With the decision the Supreme Court made with Roe v. Wade in giving that authority back to the states, it would be interesting," said Carswell.
While last year's push for a Women's Bill of Rights was not passed, Carswell said he believes there is tremendous support for the effort in 2024.
McKenna Raney-Gray, LGBTQ Justice Project Attorney for the ACLU Mississippi, said the organization was and remains in opposition to the bill.
"This is an unnecessary messaging bill. It is a solution in search of a problem and the negative effects of passing the bill present harm for queer and trans kids in schools that are political casualties to these people in power," said Raney-Gray.
She said according to the ACLU Mississippi at the time the bill became law there was no known issue of a transgender person attempting to play sports on a contested team, nor are they aware of any attempts now.
Raney-Gray said she believes the legislation was politically motivated in lieu of an impending election in 2023.
"Trans kids are already dealing with many other issues in their schools, this was just another add on," said Raney-Gray.
This article first appeared on the Magnolia Tribune and is republished here under a Creative Commons license.
Read original article by clicking here.